ARPANIDRA con Diane Peters da 2018
NEXT EVENT / PROSSIMO EVENT
31 / 10 / 2020 ARPANIDRA @ ANANDAVIPASA info and bookings 3341832308
Relax with sound , and inner silence .
The Ancient tecnique of Yoga Nidra takes us on a journey inward, remaining concious and awake we are guided into a deep relaxation allowing our mind, body and spirit to regain harmony.
ARPANIDRA is traditional Yoga Nidra accompanied by the healing vibrations and sound from the harp.
Both space for silence and listening, simple sounds, and the use of intuitive improvvisation create a transcending atmosphere to enhance ones own unique and powerful potential in self healing, balance and tranquility.
Vibrazioni e suoni dell"arpa, voce e campane, improvvisazione e musica con Yoga nidra e rilassamento autogeno, in una forma di Yoga Nidra che Diane continua espandere approfondire e condivide.

ARPANIDRA Diane con sua Arpa
ed anche......
in Collaborazione in italia con insegnati di yoga ed Centri di Yoga ed Benessere
ANANDAVIPASA

A Verona, Pescantina con Sara Spiazzi www.saraspiazzi.com

Lago di Garda con centro benessere e spa a Gardaqua

In Salento con Yoga In Salento www.yogainsalento.com
A Roma con Federico @ YogaYur www.yogayur.it

Dec 2018 YogaYur ROMA ARPANIDRA
ArpaNidra: un'esperienza di Yoga Nidra accompagnata dai suoni e dalle vibrazioni dell'arpa e delle campane tibetane che seguono il viaggio nel mondo interiore, insieme con la voce parlata, guidando verso una pace nuova e un rilassamento profondo.
https://www.facebook.com/watch/?v=342651656566531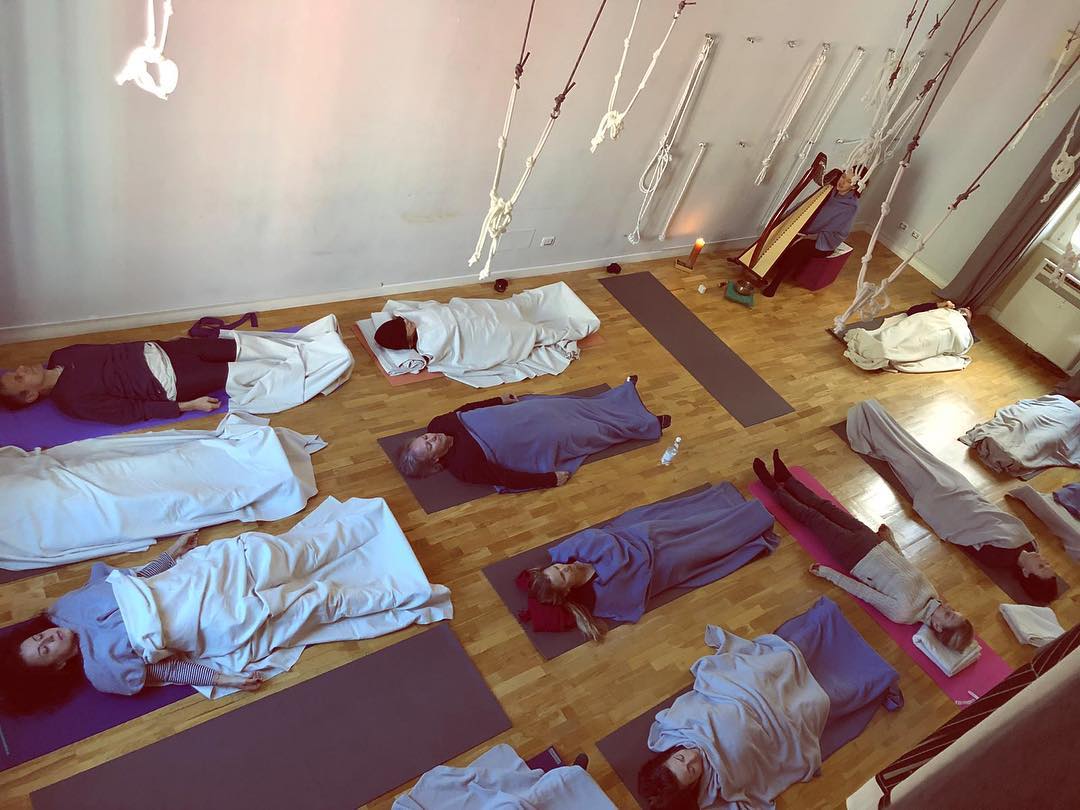 2019 Valentines Event link :
https://yogainsalento.com/2017/10/workshop-arpanidra-yoga-nidra-with-harp-with-diane-peters-francesca-maniglio/
*SAN VALENTINO 2019 "In Armonia"
*La sessione di Yoga Nidra è accompagnata dalle vibrazioni dell'arpa e da suoni che seguono il viaggio nel mondo interiore, insieme con la voce parlata, guidando verso il rilassamento profondo. L' arpanidra si pratica da sdraiati, l'unica attività richiesta é l'ascolto. I benefici sono molteplici.
L'ambiente é accogliente e silenzioso in una suggestiva sala con volte a stella, coccolati dal calore del parquet riscaldato.
Una sessione di Yoga Nidra corrisponde a 4 ore di "sano" sonno e già da subito si vive una sensazione di riappropriazione di sé e di benessere: ansia, stress e insonnia si dissolvono per lasciare spazio alla musica e al tuo viaggio interiore.
*The session of Yoga Nidra is accompanied by the vibrations, and sounds of the harp which follow the journey into the interior world, together with the spoken voice, guiding towards a deep relaxation.
ARPANIDRA is practiced lying down and the only activity required is that of listening. The benefits are multiple.
A session of Yoga Nidra equals 4 hours of deep sleep and straight away one can experience a sense of self-reappropriation and wellbeing: anxiety or stress dissolve leaving space for the sounds and music and your interior journey.
2019 / 2020 - wellness spa Gardaqua, Venerdi, sessions of ARPANIDRA di Diane Peters .
31 / 10 / 2020 ARPANIDRA @ ANANDAVIPASA info and bookings 3341832308