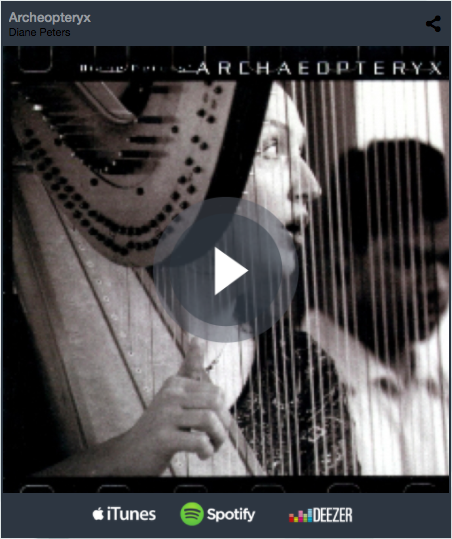 LINK TO AUSTRALIAN PHYSICAL DISTRIBUTION NEWMARKET MUSIC
http://newmarketmusic.com/album/Diane-Peters-%252d-ARCHAEOPTERYX.html
SPOTIFY:
https://open.spotify.com/album/0B8NwLqQplK4iImwPWyzEn

Credits
1 Strength and Light 9:02 By Diane Peters
2 Green Tea 6:02 By Diane Peters
3 Jason Man 8:24 By Ben Carr
4 Love Dust 5:43 By Diane Peters
5 Picasso's Weeping Woman, Part 1 2:31 By Diane Peters
6 Picasso's Weeping Woman, Part 2 5:09 By Diane Peters
7 Duo in Seven 5:28 By Diane Peters and Mark Simmonds
8 Mother Song, Part 1 1:03 By Diane Peters
9 Mother Song, Part 2 0:57 By Diane Peters
10 Mother Song, Part 3 5:33 By Diane Peters
Tracks 1, 2, 3,10 recorded at ABC Studio 345. Southbank . Melbourne Australia May 2000.
recorded and mixed by Mal Stanley.
Tracks 4, 5, 6, 7, 8, 9. recorded at Newmaket Studios Nth Melbourne Australia September 2000.
recorded and mixed by Ben Hurt.
Mastered by Adam Dempsey at Dex Mastering.
Photography- Tim Mc Neilage.
Diane Peters - Harp and Vocals
Mark Shepherd - Double Bass
Rajiv Jayaweera - Drums
James Wilkinson - Trombone
Ben Carr - Saxophone
guest : Cam Mc Allister -Trumpet ( track 2 )
REVIEW:
Archaeopteryx
four star review / WEEKEND AUSTRALIAN REVIEW/ ARTS , JAN 28, 29 2001.
The harp may seem an incongruous addition to a Jazz ensemble,
but once this recording begins , such preconceptions cease to be an issue .
Melbourne band led by Diane Peters on harp and vocals, eschews dazzling solos packed with bravado in favour of sensitive interaction between the musicians. The compositions unfold effortlessly with a nod to Dave Holland and Kenny Wheeler, and peter's predominantly lyric-less vocals soar in the same space as Norma Winstone's. Saxophonist Ben Carr drives the tunes ahead with the help of inventive trombonist James Wilkinson, before unleashing the inspired flourishes of Peters' harp. Intelligently concieved, delicately arranged and deliciously executed, Archaeopteryx is a thoughtful and satisfying statement worth hearing.
Ashleigh Wilson