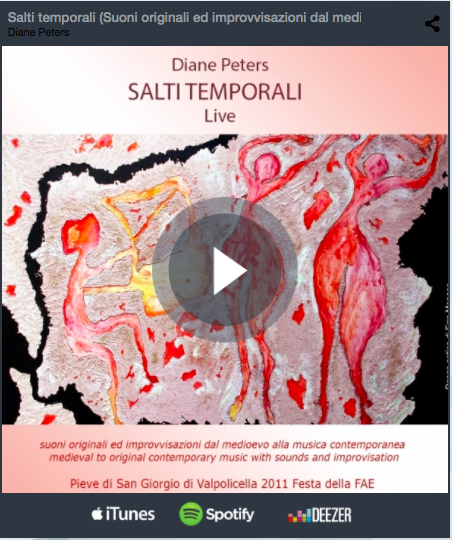 https://open.spotify.com/album/3MjFFjwMyeW1vLtoDoxVGg
1 - ISPIRAZIONE SU PIAE CANSIONES
( extract Piae Cansiones 1582*)
2 - TROTTO & SALTARELLO* ( Italian Medieval )
3 - L'INNAMORATO* from Finnish collection Piae Cansiones 1582
4 - ON HODIE - Diane Peters
5 - PERSONENT HODIE* from Finnish collection Piae Cansiones 1582
SALTI TEMPORALI ( tracks 6 - 10 ) Diane Peters
6 - Medioevale & Lago Argento
7 - Bell-pietra & Arte
8 - Construction
9 - Drill
10 - Medieval remix
11 - IL RITORNO Diane Peters
12 - FOR NEVE Diane Peters
All tracks by Diane Peters © except *Italian Medieval and works from from Finnish collection Piae Cansiones 1582
Audio Registrazione + mix Andrea Ponzoni
Recorded live Pieve di SanGiorgio in Valpolicella 12 Nov. 2011 "Festa della Fae"
harp & voice: Diane Peters
cello: Aya Shimura
double bass: Yuri Goulobev
mezzo soprano: Nina Cuk
sounds: Andrea Ponzoni
Art work by ERRE MONACO , and utube video Giuseppe Domenichini.
ITALY 2011 - SALTI TEMPORALI by Diane Peters
https://open.spotify.com/album/3MjFFjwMyeW1vLtoDoxVGg
https://www.youtube.com/watch?v=peUovZIOogw
In the historic Romanic Church of San Giorgio di Valpolicella - Verona ( Italy )
written in the occasion of the annual "festa della fae" organized by the pro loco of San Giorgio.

notes from the composer:
Using pre recorded sounds, and ideas from medieval times, transforming them, with a special attention to the use of the sounds of the working of the marble, for both sculpture "arte" and "construction", particular to the location. The base of which the inspiration for the suite of music was composed.
Diane Peters
Nella storica Chiesa Romanica DI SAN GIORGIO IN VALPOLICELLA - Verona ( Italy ) Scritta per l'occasione della "festa della fae" organizata dalla Proloco di San Giorgio.
nota dalla compositrice:
Utilizando suoni preregistrati, ed idee dal medioevo, trasformandoli, con attenzione particolare al suono della lavorazione del marmo, per sculture "arte" e "costruzione", specifica del luogo. Questa è la base da cui è venuta l'ispirazione per questa suite di musica .
Diane Peters
for more information contact:
Questo indirizzo email è protetto dagli spambots. È necessario abilitare JavaScript per vederlo.