COMPOSITION and other shenanigans.....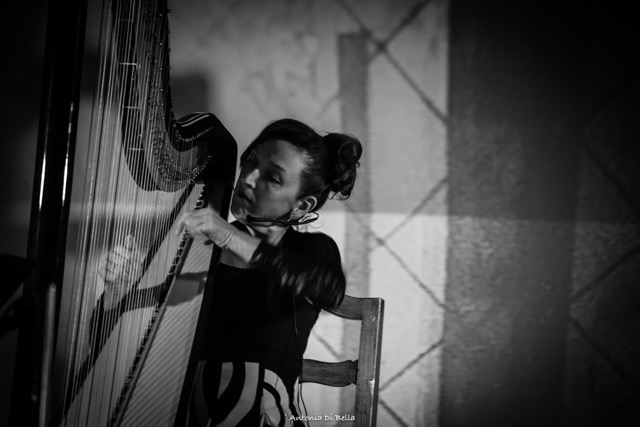 Diane studied composition with Johanna Selleck, and at the VCA and Monash University, the inspiration was fed by the "The Melbourne Days "
( a little background ) growing up in a musical family and learning the harp from 5 years of age ..then studying theatre and film at SA Flinders University drama school, and getting often the role of the comedian or "musician "! .. helped carve the path right back into music with a creative edge..
Diane moved from Adelaide to Melbourne. Greatly influenced in the early days playing and learning from the late Australian Saxophone player Mark Simmonds, lead to jazz on the harp for Diane, where she first sat in in Bennett's lane with the freeboppers. Melbourne in the 90's was a melting pot for inspiration and experimentation. Playing with Louise Blackwell, in a jazz and Celtic crossover. Collaborations with Spoken Word Artist , and writer Edwina Preston culminated in an Opera! invented by the 2 brainstorming on "Invisible Cities " by Italo Calvino, performend at Revolver Night Club. Later a CD , with Words by Edwina Preston and Music by Diane Peters. Diane played and improvised regularly at the "Make it up Club" and was harpist in ADANA Melbourne's Klezmer and original music band with Kate Conner, Kate Neal and Mark Shepherd, Phil Mcleod and Pete Humble. During the VCA years she played with drummer Will Guthrie http://will-guthrie.com, bass player Mark Shepherd and Mark Simmonds on sax in a jazz quartet, paying our dues you could say and learning again more from Mark Simmonds .This followed by the formation of her own original music band : Diane Peters' Archaeopteryx ,with Marc Shepherd- bass, Will Guthrie -drums , Ben Carr .-sax, James Wilkinson- trombone, and later with Rajiv Jayaweera on drums. Diane with Harp and voice and many live many guests inc. Cam Mc Allister on trumpet and on flute Mia Sasjo ( with whome Diane had another duo "THE APRILS" ) The band Archeaopteryx played in and around Melbourne mainly all original works by Diane.
https://open.spotify.com/album/0B8NwLqQplK4iImwPWyzEn
https://www.harpandsong.com/albums/archeopteryx
"PROJECT SUNRISE" by Diane Peters 2003
A Five-part suite combining improvised music and string trio.
Inspirations for this piece come from Alice Coltrane's 'Universal Consciousness', not directly in the structure of the composition, more the instrumentation and use of arrangement and improvisation. And the long-term affects of listening to Alice's music. This piece is the beginning of an exploration into fully notated works combined with notions of guided free improvisation. These 2 styles of music usually quite separated in this piece form a suite of five parts, with an overall theme of sunrise and, the whole cycle of the sun and the flame itself. The string trio of 2 parts being pt 2 and 4 of project sunrise are also intended to stand alone as a piece. The Piece was premiered at Bennets Lane, Melbourne Nov. 2003. The piece was also performed with other new compositions in 2004/2005 at fortyfive downstairs, Bennetts Lane Jazz club, and a return from Italy performance in Adelaide with members of the Adelaide Symphony Orchestra. at the Pilgrim Church, Recorded By 5 MBS.
"#53 Hillarion" by Diane Peters. 2004 work for orchestra ( with jazz saxophone solo ) was performed by he Monash Chamber Orchestra, conductor Tim Phillips at the Robert Blackwood Hall, Oct 29 2004.
Her own film score for harp and piano featured as the music for Australian short film "And One Step Back " by Marcus Dineen Appearing in Melbourne International film festival, and winning numerous awards and screenings internationally.
In Italy Diane's original compositions feature in her own performances , solo , duos, trios , and ensembles , in many collaborations in Italy and touring in France and Australia, Including :
TRIO AMARONE- duo and trio with Viola Player Maria Vicentini , with Nicola Monti on Bass . "Suite Amarone" for Harp Double Bass and Viola .other titles include : "For Neve", "Il Ritorno", "è chiaro ora", "Circolo", "San Ciriaco", "Catatonic", "Monte Snow". all atmospheric moody with improvisations. Diane and Maria toured in Australia as a duo revisiting OZ venues such as Bennett's Lane with Tamara Murphy on bass , the Make it up Club , and in Adelaide for the Harp Society of SA at the Marion Cultural Centre.
BASS and Harp ON Tour
STEFANO BENINI DIANE PETERS DUO https://www.harpandsong.com/projects/peters-benini-duo
"SALTI TEMPORALI" by Diane Peters 2011 - (UTUBEand SPOTIFY below) live CD . works for harp 2 voices ,sound recordings, bass, cello. "Using pre recorded sounds, and ideas from medieval times, transforming them, with a special attention to the use of the sounds of the working of the marble, for both sculpture "arte" and "construction", particular to the location. The base of which the inspiration for the suite of music was composed. " Diane Peters
https://open.spotify.com/album/3MjFFjwMyeW1vLtoDoxVGg
https://www.youtube.com/watch?v=peUovZIOogw
https://www.harpandsong.com/albums/salti-temporali
ORCHESTRA INTERCULTURALE MOSAIKA Diane contributes to arranging and composing for the orchestra MOSAIKA, who she joined in 2017. In their production of Peer Gynt in 2017 tackling arrangements for the orchestra of Greig's "Death of Ase "and "Solveig's song" https://www.fonderiaperta.com/it/programma/37_il-sogno-di-peer-gynt
For the orchestra has written the original works "NOW / Celtic Roots" 2018, "Notte Le Stelle" 2019 . An extended arrangement of Bartolemo Tromboncino's " Tu Dormi " 1470-1535, and re-arranged ADANA , a Macedonian folk tune also played by the band "Adana" , so also a tribute to the Melbourne Days.
Film and Theatre remain a passion for Diane , and lead to collaborations in Italy with Ugo Brusaporco, Solimano Pontarollo, Evasio Revente, Lorenzo Bassotto and Licia Maglietta.
For the production of Romeo and Juliet ,"Casa Shakespeare " di Solimano Pontarollo, Diane created the electronic sounds and scapes and original works for solo harp.
cafeAmaro - a side step back into the harp and electronica of the David Franzke days, and jamming with the djs in the big warehouse space of Night Club Revolver in Melbourne , this time with DJ and pianist Andrea Ponzoni -Apo( tech ) in Italy. The duo started out with harp and voice improvising over Apo (tech)'s sounds and inventions, untill the two combined forces and produced an album co written, and starting in 2015, finally released in 2017. performing in Verona, Salerno, Rome, Milan, Florence, and again often with guests.. many on the album: strings ,trumpet, guitar.
https://www.cafeamaro.com/album
2018 BLUE IMMERSION - Diane Peters' Jazz TRIO in ITALY , with Marc Abrams on Bass , and Enzo Carpentieri on Drums.
https://www.harpandsong.com/projects/blue-immersion
MUSIC FOR DIMA 2018 - all original works for harp , string quartet, double bass."Open 4", "Avesa Primavera", "Tango for Tina", "Anita's Waltz", "Nina's Mazurka", "Veronetta coda" "Stringsstringsstrings"
a bit extra on ..IMPRO

Solo improvisation performances at venues such as the make it up club www.makeitupclub.com
Melbourne-Australia, combining harp and voice with the use of super 8 film and lighting effects and recorded voices and sounds. MIUC is (improvised music association) assisted by the Australia Council. Also appering in duo with Maria Vicentini on an Australian visit in 2009 , playing free - Harp and Viola ( prepared harp and viola )
Franzke and Peters (Melbourne) a collaboration of harp and computer 
Franzke and Peters have collaborated using DJ and improvisation along with co composed pieces utilising computer effects and voice. This combination has appeared numerous times at Honkeytonks night club in Melbourne a modern and atmospheric sound.Their work was utilised in the Melbourne International festival of the Arts project and in sound works of David Franzke for Melbourne Theatre Company. Diane improvised Per Anders Nilsson Swedish composer, computer and harp,during his workshop at Verona Conservatorium.
-Solo at Tonic jazz improvisation club in New York 2000, curated by Jon Rose.
-As part of "Verona Risuona 2007″Collaboration with Staffan Mossenmark Swedish composer with harp and tractor! piazza bra in Verona, then "Il Cigno " "The swan" a tounge in cheek re working of sean seans "The swan", to include not only harp and cello but tuba, double bass violin and improvvisation, again in the centre of verona. and in 2014 with Trumpets crumpets Trumpets, as composer and conductor of trumpets playing from windows over looking the historical centre of Verona.