Diane Peters - Jazz harpist, composer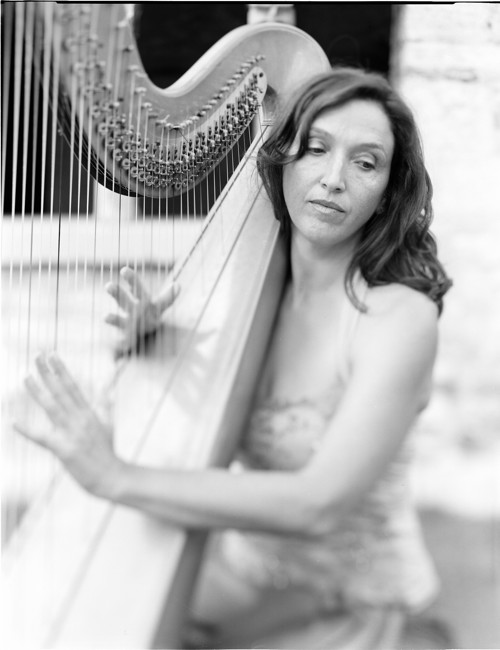 Inspired by early non-classical harpists such as Dorothy Ashby, Alice Coltrane and Andreas Vollenweider, Diane diverted her classical studies, to the world of Jazz and Composition. Harp lessons began at the age of 5 with Lydia Shaxson. She studied also theatre and film then was drawn to jazz and composition. She is the first harpist in Australia to complete the Victorian College of the Arts JAZZ and IMPROVISATION performance degree. She studied with Huw Jones and Marshall Mc Guire (harp), combined with lessons from Ben Robinson ( bass) and Tim Stevens ( piano) to name a few. Influenced by Australian musicians Mark Simmonds, Chris Abrahams (The Necks), Paul Grabowsky. She then took lessons in New York with Park Stickney, and was happy to also meet the mythical Daphney Hellman, and sad not to have ever met Alice Coltrane. Diane Has performed in NY, Paris, Netherlands, Italy and of course AUSTRALIA.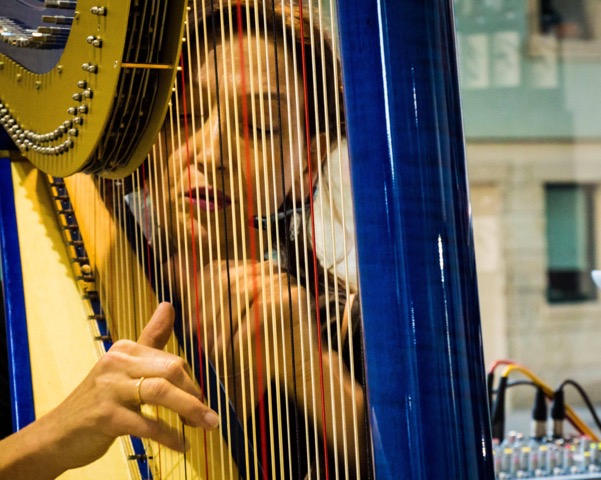 Diane is constantly gaining skills and inspiration playing and recording with musicians in Italy where she lives now in Europe.
Some international appointments include: being Invited from Australia to the 5th European Harp Symposium in Amsterdam with her 5 piece band 2001, and the ANU International Harp Event 2004 , where she played in trio and took a jazz / improv workshop. In Italy the International Harp Festival of Viggiano saw a concerto of cafeAmaro and improv workshop in 2015. Concerts between Australia Italy and Paris include OZ tour of "bass & harp on tour" 2015.
Projects following her 1st band in Australia, Archaeopteryx, (a jazz line up of Bass, Drums, Sax, Trombone) with CD, and ADANA, include "Project Sunrise" in Australia double ensemble of jazz and strings .TRIO AMARONE : harp Diane Peters, Bass Nicola Monti, Viola Maria Vicentini, have played concerts of original jazz by Diane Peters in Italy and toured in Australia in 2009. "Salti Temporali" a concert recorded live in 2011 for a CD of all original music by Diane Peters. Diane collaborates with Shakespeare in Veneto from 2016 with live original music on stage in the theatre production of Romeo and Juliet, directed by Solimano Pontarollo. A CD of cafeAmaro out in 2017 Diane Peters + Apo(tech) Harp , voice and Electronica. In 2017 Diane Peters Live solo set , (an ongoing work in progress of jazz , and original music with electonic manipulation of the voice and harp), appeared at TolfArt festival in Carpineto Romano and the Padova Jazz Festival 2017.
SOME UTUBE LINKS:
CD LIVE 2011
"Salti Temporali" in Italy with Accoustic string trio and recorded sounds, having produced a CD of the live performace tube.
https://www.youtube.com/watch?v=peUovZIOogw
CD OUT 2017
cafeAmaro = Diane Peters + (Apo-tech) co written electronic pop/ jazz, soundscapes, tracks beats and improvisation.
https://www.youtube.com/watch?v=UCNJZc1NS9s
member of MOSAIKA , a Verona based ethno/ jazz orchestra.
https://www.youtube.com/watch?v=X_R6gBH5w_s
STEFANO BENINI DIANE PETERS DUO - harp and flute jazz duo( here in trio with Danillo Gallo)
https://www.youtube.com/watch?v=Nxxf4GnqIzw
http://www.centroitalianomusica.com/diane-peters-stefano-benini/
bookings and info : Questo indirizzo email è protetto dagli spambots. È necessario abilitare JavaScript per vederlo.
SOME REVIEWS..... past AUSTRALIA
CD review "Diane Peters'Archaeopteryx" australia:
"The program shows Peters to be an adventurous harpist, skilled vocalist and excellent composer whose combined body of work on this set has multiple peaks of interest. She obviously takes her art seriously, and the result is a serious musical endeavour." Frank Rubolino, Cadence Magazine, USA 2001
ALBUM available on NEWMARKET RECORDS AUSTRALIA
recent ITALY:
cafeAmaro= Diane Peters + Apo(tech) PERFORMANCE:
"cafeAmaro is a successful combination of art , between video, electronica, voice and harp , poetry and emotion in the moment. " 2015
Vincenzo Zitello
cafeAmaro= Diane Peters + Apo(tech) CD REVIEW 2017
"The Harp, a rare and evocative instrument, played with the virtuosity of Diane Peters, meets with the electronica of Andrea Ponzoni."
offtopicmagazine.net
cafeAmaro= Diane Peters + Apo(tech) live 2016 " ... I heard moments of Cinematic Orchestra e Craig Armstrong, Bohren und der Club of Gore and Angelo Badalamenti, Pat Metheny, Tortoise and Dead Can Dance."
cd: …"A disc made with relaxed transperance, of mediation, …also sensual as in Nostra Bossa.." A.Giulio Magliulo
cafeAmaro= Diane Peters + Apo(tech) CD REVIEW 2017
"..a constant exchange ... high end refined instrumentale music….including layers of detached avantguard electronica" indiepercui ( web review )
cafeAmaro= Diane Peters + Apo(tech) CD REVIEW 2017
"Particularly interesting, the electric acoustic setting , the sounds of the harp, voice and the guest instruments interlaced with varicolored electronica…All Very Enjoyable"
Angello Leonardi ( all about jazz )
ALBULM available : MARTESHOP ITALY